May 6, 2020 | gadget | No Comments
This article shows you how to create a simple "Gadget" — a sort of mini-application supported by Windows 7 and Vista.  Gadgets can be dropped anywhere on the desktop to provide instant information, or to act as a gateway to a website or a larger program.  
What I like about gadgets is that they are really just small HTML pages.  That means:  No big-project development overhead.  If you have Notepad.exe and some knowledge about HTML, then you can write your own gadget.  Like HTAs, they run with with full local-program privileges, and can use ActiveX objects.  There is no limit to the creative things you can do with gadgets.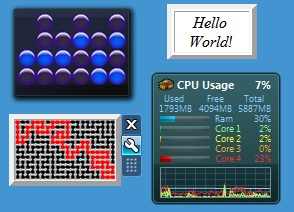 How to Create a Gadget (the short version):
Here's all you need to do to create your own gadget:
1) Write an HTML page, say gadgetName.html
2) Write a short XML file, named (exactly) gadget.xml
3) Copy these
…
Read More